About O'Connor Chiropractic
A Bright Future for Harrogate
Since 2004, Dr Jason O'Connor (Chiropractor) has been helping those throughout Yorkshire at our clinic in Harrogate. Our O'Connor Chiropractic lion logo symbolises strength, integrity, courage and the hope for better health and wellness for you and your family.
If your spine is not healthy, you are not healthy. Chiropractic care works to help ensure your spine is aligned so that your central nervous system works properly as it controls every single organ, gland, blood vessel and cell in your body.
Over the years, Dr Jason (Chiropractor) has seen how chiropractic care goes far beyond pain relief to find the underlying cause of your problem. "I have seen people simply giving up all hope of a life free from pain and illness, then taking an active role in their health and completely turning their own and their families' quality of life around." 
Dr Jason O'Connor
Chiropractor
Dr Jason (Chiropractor) is passionate about nutrition, exercise as well as paediatrics and the care of pregnant women and babies for a healthy family. He is also an active member of the United Chiropractic Association, meeting with prominent international chiropractors that inspire and excite him about the chiropractic profession.
Dr Jason (Chiropractor) believes in illness prevention so you don't have to rely on drugs or surgery to treat your symptoms. "I've been practicing for over 15 years and I still feel my passion for my profession is growing with each patient I see."
"I regularly travel the globe to attend training, seminars and lectures to keep growing and developing as a clinic with the latest research and techniques. Therefore, able to provide the best possible care for our practice members"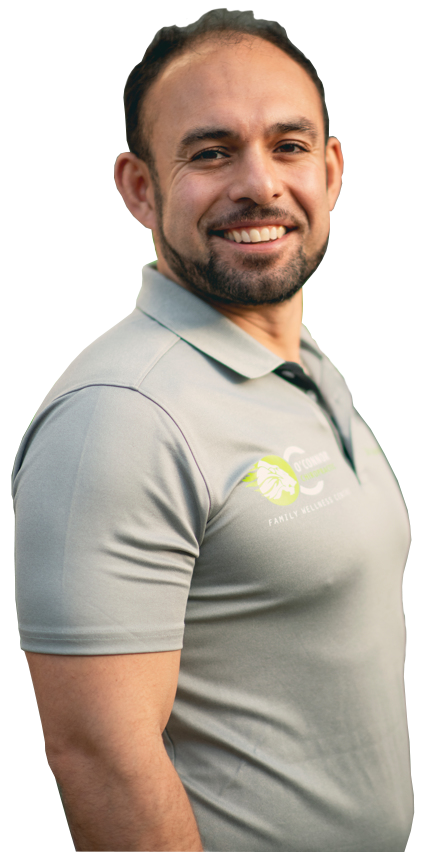 If you have an enquiry, we'd love to hear from you!
Charlotte Savage
Clinic Manager & Chiropractic Clinical Assistant
Abbie Newton
Chiropractic Clinical Assistant
Our Chiropractic Clinical Assistants
Our Chiropractic Clinical Assistants play a fundamental role in our patient care. Not only are they on hand to greet you at the front desk, handle any appointment or financial queries and brighten your day, but also to perform crucial testing throughout your time with us. They are fully trained to take your medical history, perform functional tests and spinal nerve scans as well as your Nerve Impulse Check Ups throughout your care. They provide vital support in assisting the Chiropractor to ensure the best possible care for everyone in our community.
Don't just take OUR word for it..